Why would you need to share access to your accounts?
100% HelpDesk may need access to the accounts associated with your website in order to make a smooth integration of Site Care or addition services.
Some reasons we may need to access your accounts are:
We will require the username and password for any account you authorize us to access on your behalf.
Privacy Policy
How long do you retain my login credentials?

In order to provide you with seamless support in the future, your login credentials will be securely stored by our support team. At any time, you can request that we delete any saved credential.
Who has access to my credentials and data?

Our support and design teams will have access to your account credentials if required to access your accounts to perform updates to your website, post on Social Media on your behalf, or troubleshoot an issue.

Your privacy is important to us and none of your information will be shared outside of our organization.
2-Factor Authentication
Most accounts encourage setting up 2FA (2Factor Authentication) which greatly enhances your security by preventing unfamiliar locations and IP addresses from accessing your account without your permission.
When providing the 100% HelpDesk team access to your accounts, you will be asked to be accessible during our first attempt to login in case there is a 2FA authentication request. Feel free to email if you receive a login attempt that you're unsure of.
Creating a New User
Some services give you the option to create new users, which allows you to great a new login for us to access your account, rather than sharing access to your account. The choice to do so is yours and we can walk you through that process if required.
cPanel
cPanel is the gateway to many settings for your website, including DNS, Databases, E-Mail, and much more.
100% HelpDesk will require the username and password for your cPanel account.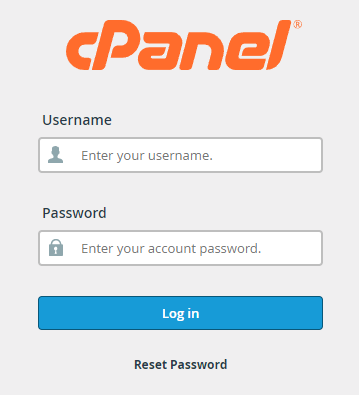 Click image above to be directed to the cPanel Login page.
To find your cPanel account, below are a links to a few common webhosts:
Domain Registrars
A domain registrar is where you bought your domain from. Access to your domain registrar account allows 100% HelpDesk to transfer your domain to our registrar account. This allows you to simply renew through us, making managing and tracking website costs simple and straightforward. Please note: you cannot transfer a domain between registrars for the first 60 days after registration, as per ICANN.
Google Analytics
In order to access your Google Analytics to integrate it with your website, 100% HelpDesk will need the email address and password used to set up the account. Alternatively, you can also create a new user on your account for our team to access the data.
Google Business Profile Manager
If you would like 100% HelpDesk to manage or optimize your Google Business Profile, we will need the email address and password used to set up your account. Alternatively, you can create a new user on your account as illustrated below.